Restoration Services
The following restoration and specialist service organisations are recommended by member clubs of the NZ FoMC
Liability Insurance
For details on the Federation of Motoring Club's liability insurance scheme for Member clubs, contact Rothbury Insurance Brokers: www.rothbury.co.nz.
Cook Strait Crossings (Tony Hirst)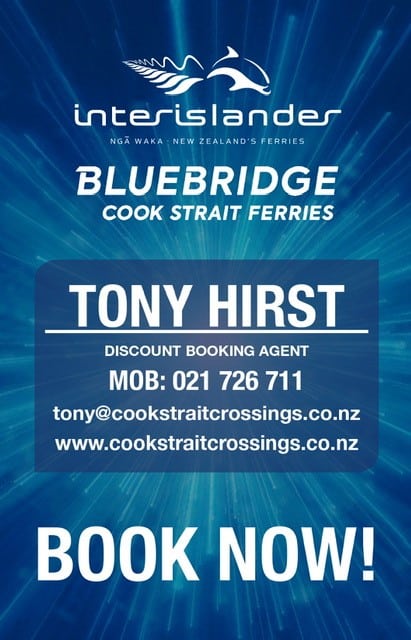 NZFoMC members receive huge discounts on Interislander & Bluebridge fares
All bookings are fully flexible; there are NO penalties for altering sail dates and times. This means you can book in advance, making the most of early booking rates.
During COVID-19 restrictions, fares are fully flexible and refundable. They can be altered or cancelled at any time prior to departure.
Payment is not required until one week prior to departure.
A special booking web page has been created to make booking your trip or getting a quote even easier. On occasion promotions will be offered on this site.
Members will have a dedicated independent booking agent; Tony Hirst who works for International Motor Sport. Tony is happy to receive bookings via email, phone and will be the contact you deal with when you book online
How do I take advantage of this deal?
You will need to book your crossing with Tony Hirst our independant booking agent.
DO NOT BOOK DIRECT WITH INTERISLANDER or BLUEBRIDGE PLEASE.
For more information, visit cookstraitcrossings.co.nz click on the "Book Now" button or email or call Tony directly on
Tel. +64 21 726 711
Email. tony@cookstraitcrossings.co.nz

If booking via email, provide the following details:
Drivers full name and contact phone number
Date, time and direction you wish to travel
Vehicle type and rego
Trailer length (if any)
Truck length (if any)
Motorhome length (in any)
Additional passengers and whether they are adult or child (Child up to 17yrs)
Happy sailing!
Classic Vehicle Storage
On the Whangaparaoa Peninsular, north of Auckland is specialist classic vehicle storage facility "Precious Steel".
Contact Allan McIntosh on 021 213 6892 or via email.